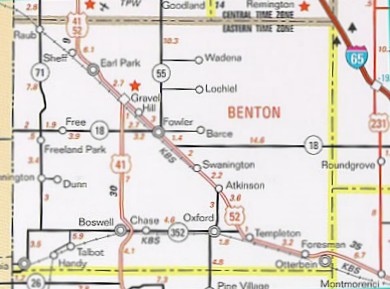 Benton County Indiana was formed in 1840 & named for Missouri senator Thomas Hart Benton. Initially the county seat was Oxford, located in southern part of Benton County. In 1874, it was moved to a more central location in Fowler.

The best known native of Benton county is not a person but a horse. Dan Patch, a legendary harness racing champion, went undefeated during his racing career from 1900 to 1909. At the time of his retirement he held nine world records. At the height of his popularity, he earned his owner over a million dollars per year, primarily through product endorsements. Dan Patch was born in Oxford in 1896, but sold to an owner in New York in 1900. He was sold again in 1902 to an owner in Minnesota, where he lived out the rest of his life. Dan Patch was huge draw during his racing career & after his retirement. Dwight Eisenhower saw him at the 1904 Kansas State Fair. Harry Truman wrote a fan letter to Dan Patch when he was a boy. There is a historical marker in Oxford marking the birthplace of Dan Patch. Oxford's annual festival is named "Dan Patch Days" in his honor.

In 2008, the Benton County Wind Farm became Indiana's first commercial wind farm, with 130 MW of capacity. The Fowler Ridge Wind Farm was opened the following year, with a capacity of 400 MW. The wide open plains of Benton County make it excellent for generating wind power.