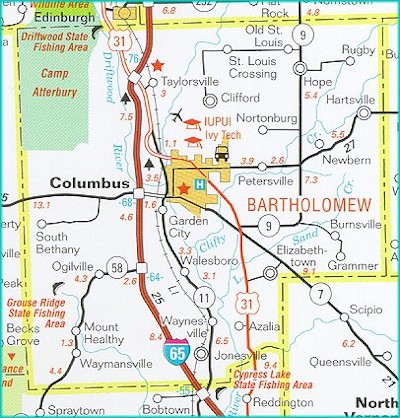 Bartholomew County Indiana was formed in 1821 & named for Lt. Colonel Joseph Bartholomew, who was wounded 10 years earlier at the Battle of Tippecanoe. The county seat is Columbus, which is known for 2 things: Its modern architecture & hosting the headquarters of Cummins Inc., the maker of diesel engines. Cummins began a program where they would pay the architect fees for public buildings, providing that they were designed by highly rated firms.

In addition to the architecture tours, there are a couple other attractions that I highly recommend. Be sure to go downtown and see Chaos I by Swiss architect Jean Tinguely at The Commons. Photos do not do it justice, you have to see it in person. There is a tremendous amount of motion that does absolutely nothing. The other place you need to visit is Zaharako's, which is not far from the Commons. It is an ice cream parlor that also sells sandwiches. The old soda fountains, the 1905 Tiffany style lamp and the 1908 Welte Orchestrion self playing organ are absolutely beautiful.

Famous people from Columbus, Indiana include NASCAR driver Tony Stewart, Lucas Oil founder Forrest Lucas and current Indiana governor Mike Pence.