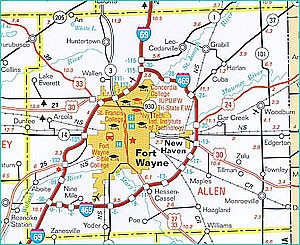 Allen County Indiana was formed in 1824 & named for Colonel John Allen, who was killed in the War of 1812. It is Indiana's largest county with an area of 660 square miles. The county seat is Fort Wayne, which is the second largest city in Indiana, after the capital, Indianapolis.

Fort Wayne was established by, and named after General "Mad" Anthony Wayne in 1794. General Wayne served with distinction during the American Revolution, but he is best known for his victory over a coalition of Indian tribes at the Battle of Fallen Timbers in Ohio. Fort Wayne is located at the confluence of the St. Joseph, St. Marys and Maumee Rivers. In the 1800s Fort Wayne grew rapidly due to its position along the Wabash & Erie Canal and later on due to railroads passing through the city. John Chapman, the legendary "Johnny Appleseed", passed away in Fort Wayne, and is buried in Johnny Appleseed Park.

Other famous people from Fort Wayne include Carole Lombard, a famous actress during the 1930s. She traveled back to her home state in 1942 for a war bond rally. On the return trip to Los Angeles she was killed in a plane crash. At the time she was married to Clark Gable, another screen legend.